Gift from creation
Works with the purest elements of the earth: Salt Water and Electricity
The aquama solution can be used for all these...
Restaurant

Sanitary

Vehicles

Nursery

Veterinary

Floors
And More...
The produced solution has unique properties.
Disinfectant and detergent solution all in one.
Our all-in-one solution allows you to replace 99% of your cleaning products, saving you space and money. Keep your house clean, safe and fresh.
Efficient and reliable.
Experience peace of mind with aquama. Our solution is certified by OSPF for maximum safety and effectiveness in any situation. Does not irritate skin, eyes and does not present any major risk if ingested. Plus, it won't cause any allergic reactions.
Small office, big impact.
The Falcon R is a reliable and effective choice for small clinics and enterprises. Its compact size and 12L capacity make it an ideal tool for all of your disinfection and cleaning needs. Trust the Falcon R to consistently deliver top-quality results.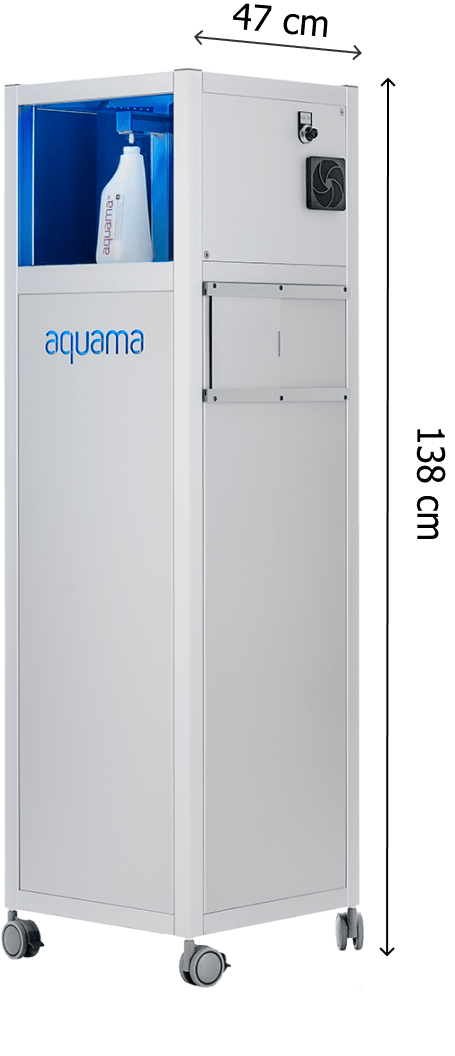 Useable in only a few clicks.
Using the aquama app is easy. Follow those steps to locate a machine near you, select and refill.
Make sustainable profits.
Empower yourself to become the manufacturer for other clients with the Falcon R. Make incredible sustainable profits by selling the solution to your collaborators, colleagues, friends, family or strangers.
The most advanced
hydrolysis machine.
A self-cleaning machine that requires no maintenance. Our fully automated cleaning system takes the hassle out of upkeep, so you can focus on what matters most. Experience the ease of hassle-free cleaning with our advanced technology.
Self-regulating technology
Utilize the machine to adjust the power of the solution for optimal virucidal and bactericidal performance according to industry standards.
Revolutionary self-cleaning technology
Experience the convenience of a self-cleaning machine with no maintenance required. Our fully automated system makes upkeep effortless.
4
Patented Breakthroughs
10
Years of research
10
Years of existence
Elevate your commitment to sustainability and pave the way for a brighter future with our innovative solutions.
Your carbon impact
After a complete life cycle assesment, From the product raw material extraction to its end of life. Accounting for manufacturing and transporation, using aquama over one year of use is the equivalent of only 300m driven by car.
Average carbon footprint of aquama vs traditional cleaning solutions
Falcon R® respect these norms
The applicative system allows the machine to have up to date norms regardless of your location.
Bactericidal
EN 13727
(15 sec | 20°C)
EN 1276
(5 min | 20°C)
EN 13697
(5 min | 20°C)
EN 1650
(5 min | 20°C)
EN 13624
(5 min | 20°C)
EN 17126
(1 min à 5 min | 20°C)
Yeasticidal
EN 1650
(5 min | 20°C)
EN 13624
(15 min | 20°C)
EN 13697
(15 min | 20°C)
Virucidal
EN 16777
(1 min - 5 min | 20°C)
EN 14476
(5 min (surfaces) | 20°C)
EN 14476+A2
(15 sec | 20°C)
Fungicidal
EN 13697
(5 min | 20°C)
EN 1650
(5 min | 20°C)
EN 13624
(5 min | 20°C)
Sporicidal
EN 17126
(1 min - 5 min | 20°C)
EN 1650
(5 min | 20°C)
EN 13624
(15 min | 20°C)
Hand Disinfection
EN 1500
(60 sec | 20°C)
EN 14476:2019-10 Coronavirus
(15 min | 20°C)
The aquama® solution is an active chlorine produced by electrolysis of sodiumchloride which can disinfect and clean floors and surfaces, obtained on site from machines.
Produktdetails
Material

Aluminium

Noise emission

< 65 dB(A)

Size (L x W x H) and Weight (kg)

138 H x 47 T x 43 B, 30 kg

Electrical connection

110 V/220 V, 50/60 Hz, 600W - single phase

Solution tank

15 liter solution storage tank, 12L usable

Internal salt tank (to fill)

10 liter salt tank

Production

Between 20l and 50l/h
(depending on the type of solution chosen)

Warranty

According to the country's legislation,
extension contract on demand

Country Of Manufacture

Swiss requirement - Made in Germany

RFID

None

Norms

EN 13727, EN1276, EN13697, EN 13624, EN 1650, EN 14476, EN 14476+A2, EN 13697, EN 17126, EN 1500

PPM

50 ppm - 2.000 ppm
(according to application setting)

Filling spray

600 ml - 3l / min or handpump 8l / min via the app

Water supply

3/4 valve with customer-side external thread
(filter kit included in the machine as an extra)

Draining

Via siphon for an 8mm diameter tube
(see 2 outputs depending on machine model)

Water pressure

min/max 3 bars machine location room

Water inlet temperature

(min – max) : 5°C – 20°C
(add a water cooler if the temperature exceeds 20°C)

Water quality

Potable with max. 8°dH
Watch How to Use the Falcon R®