aquama® is the answer to all individuals and businesses (from all activity fields: hotels and restaurants, transport, health, education, etc) wishing to benefit from the power of hydrolysed solutions for detergency and/or desinfection, while acting in favor of a cleaner planet for future generations
100% biodegradable (water + salt + electricity)
Risk reduction: use of aquama® does not require PPE (gloves, glasses...)
Long-term risk reduction of occupational diseases
Reduction of CO2 emissions (manufacturing, packaging, transport)
Drastic reduction in the use of chemicals
Elimination of toxic fumes in air
Pollution abatement and environmental protection
Turn water and salt into a detergent and disinfectant solution in a few minutes
Realize your ready-to-use solutions on site
Remove dirt more easily with our microfibres, which also allow quick drying of surfaces
Effective on any surface (kitchens, crockery, furniture, bathrooms, bathrooms, windows/mirrors, vehicles, parquet, carpet, tiles, linoleum/PVC...)
The machines for professionals allow the filling of sprays, mono-brushes, high-pressure cleaners, injectors or scrubbers
Simplify cleaning processes and reduce costs
Replace up to 90% of your regular cleaning products with the aquama® detergent and disinfectant solution
Reduce your logistics costs (purchase, transport, storage removal)
Manage your solution volume transparently
Save up to 80% of your cleaning budget
Become a producer of your own cleaning and disinfection solutions

We want to provide the widest range of people innovative cleaning solutions, 100% biodegradable and cost-effective. Our products, while bringing high quality standards traditional detergents and disinfectants, meet ecological requirements.
Protecting the ecosystem is the key point of all soutions and services we have developed.
Technology
Hydrolysis is a process of decomposition of water (H2O) into oxygen (O2) and hydrogen (H) via an electric tension.
This principle, combining water, salt and electricity, well known since Ancient Egypt, was stabilized on May 2dn, 1800 by two eminent British scientists:
Mr William Nicholson and Sir A. Carlisle. In 1807, chlorine resulting from this process was isolated by Sir Humphry Davy, relealing a never-ending and ecological bactericide.
aquama® technology is an electrical process of a chemical activation that leads to eco-friendly disinfectant and detergent cleaning solutions.
aquama® is the first company in the world to market a product derived from hydrolysis that is both detergent and disinfectant.
These solutions, obtained easily with water, salt and electricity (thanks to the exploitation of a patented process) replace 70 to 80% of the usual toxic detergents and disinfectants.
aquama® bring breakthrough! a major technological.
Obtaining a desinfecting solution with a neutral PH that can remain stable for several days (machine for individuals) and up to 6 months for professional machines is amazing.
Our technology can significantly reduce your carbon footprint.

Solutions
Standards
In Switzerland aquama® holds the authorization of the Federal Office of Public Health NºCHZN3660 and CHZN3975 for disinfection in the private domain, public health, as well as any area of professional and general public use. Our solutions have passed the following Swiss and European standards:
EN 1276: Quantitative suspension test for the evaluation of bactericidal activity of antiseptics and chemical disinfectants used in the fields of agro-food, industry, domestic and community - Test method and requirements (phase 2, stage 1).
EN 13697: Chemical antiseptics and disinfectants. Quantitative non-porous surface test for the evaluation of bactericidal and/or fungicidal activity of chemical disinfectants used in the food industry, in the domestic sector and in communities. Test method without mechanical action and requirements (phase 2/ stage 1).
CH 1650: Chemical antiseptics and disinfectants used in the field of agro-food, industry and in domestic and communal areas. Quantitative suspension test for the assessment of fungicide and levuricide activity. Test method and requirements (phase 2/ stage 1).
References
aquama® is already located in airports, businesses, institutions, and individuals… replacing several hundred thousand liters of chemistry. Professional guests include the headquarters of the International Olympic Committee, the Swiss municipalities of Prangins, Renens and Ecublens, WWF, the cleaning company MPM, the Royal Leman yatch Club, Tesla, the Mövenpick hotel chain, EasyJet, the Geneva University Hospital (HUG), the home service company Ouidoo, and Geneva airport.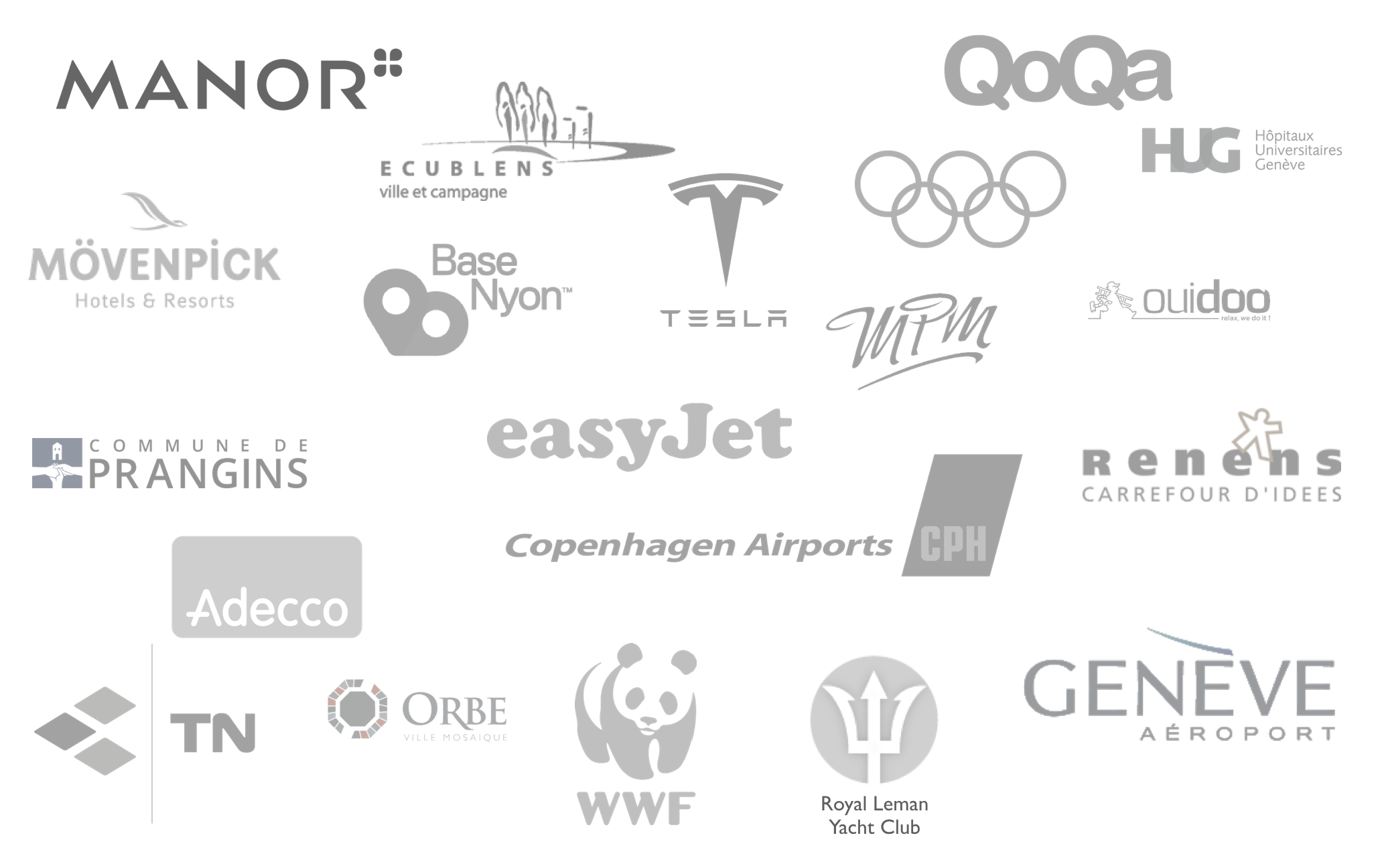 Testimonials
« Who can believe a person who comes to you one morning and tells you that it is possible just with water, salt, electricity and a microfiber cloth to clean up a public building like the airport?Well "they" [aquama®] answered all my attacks, arguments and questions, I resolved to test the machine for 3 months and today I am the happy owner of it…No unnecessary storage and loss of efficiency.Simple on-site production and logistics and ready-to-use solutions »
M. Giuseppe Placa, chef du service prestations d'entretien de l'aéroport de Genève.
« As we operate on water, we must ensure that we do not release toxic substances into the lake or harbour. In this sense, aquama® solutions are perfectly suited to our business: 100% natural product = 0% water pollution […] Aquaama® solutions are easy to produce, at a relatively low cost compared to conventional products that we can find in retail. A cheaper solution that doesn't spill toxic substances into water: what more to ask! »
M. Florent Chevey, Directeur de Royal Leman Yacht Club.
« We have found aquama® THE solution for the future. Being able to produce our own water-based cleaning product is a revolution for our business. We are almost out of chemicals, which is environmentally friendly, but it is also a real step forward for our staff…no risk of burns, allergies, or inhaling toxic vapour… Having our own production makes us autonomous in all respects. It is not enough just to use the machine, but we also save the cost of delivery, stock management. »
M. Althaus, CEO de la société de nettoyage MPM.